Regular price
Sale price
$55.00 USD
Unit price
per
Sale
Sold out
Fashion summer leggings

💚 We produce our summer leggings fairly in our Berlin studio.
For cutting and sewing we need
5 business days. Then your freshly sewn favorite piece is on its way to you.

💚 High quality & durability, because we use high-quality materials for our summer leggings.

💚 Anti-hole guarantee If something breaks, we are ready to repair the damage. Because with our anti-hole guarantee, you can be sure that you have purchased a really durable product.
Our women's leggings have a body-hugging cut and a low waistband. It therefore sits more on the hips than on the waist. It is held in place by a 3cm wide rubber band sewn into the waistband.

The tight leggings fit perfectly, don't slip and follow every movement. They are ideal as yoga pants for women or fitness leggings. But it is also hard-wearing in your free time and you can even lounge around comfortably on the couch. As you can see, our leggings are true all-round artists. And by the way, our product is not only made for women. Whether man, woman, diverse or penguin, everyone should be happy about colorful legs and enjoy life with them.
As the name suggests, our leggings are waiting for you with a cool red flower pattern on a black background. Our leggings make you happy because it's just a pleasure to look at them.

The red flower leggings design is a real eye-catcher and particularly suitable for being combined with fashion in uni colours.

Fair production in Berlin

This brings many advantages. There are no long delivery routes and you can be sure where your clothes come from. We can also manufacture in a more targeted manner and on request, so that no surpluses are produced. A blessing for the environment and nature. In the end you hold a fair product in your hands that you can wear with a clear conscience.
Materials

Material: 92% cotton, 8% elastane
Shipping & Returns

For cutting and sewing we need 5 working days. Then your freshly sewn favorite piece is on its way to you.
measurement table

measurement table




View full details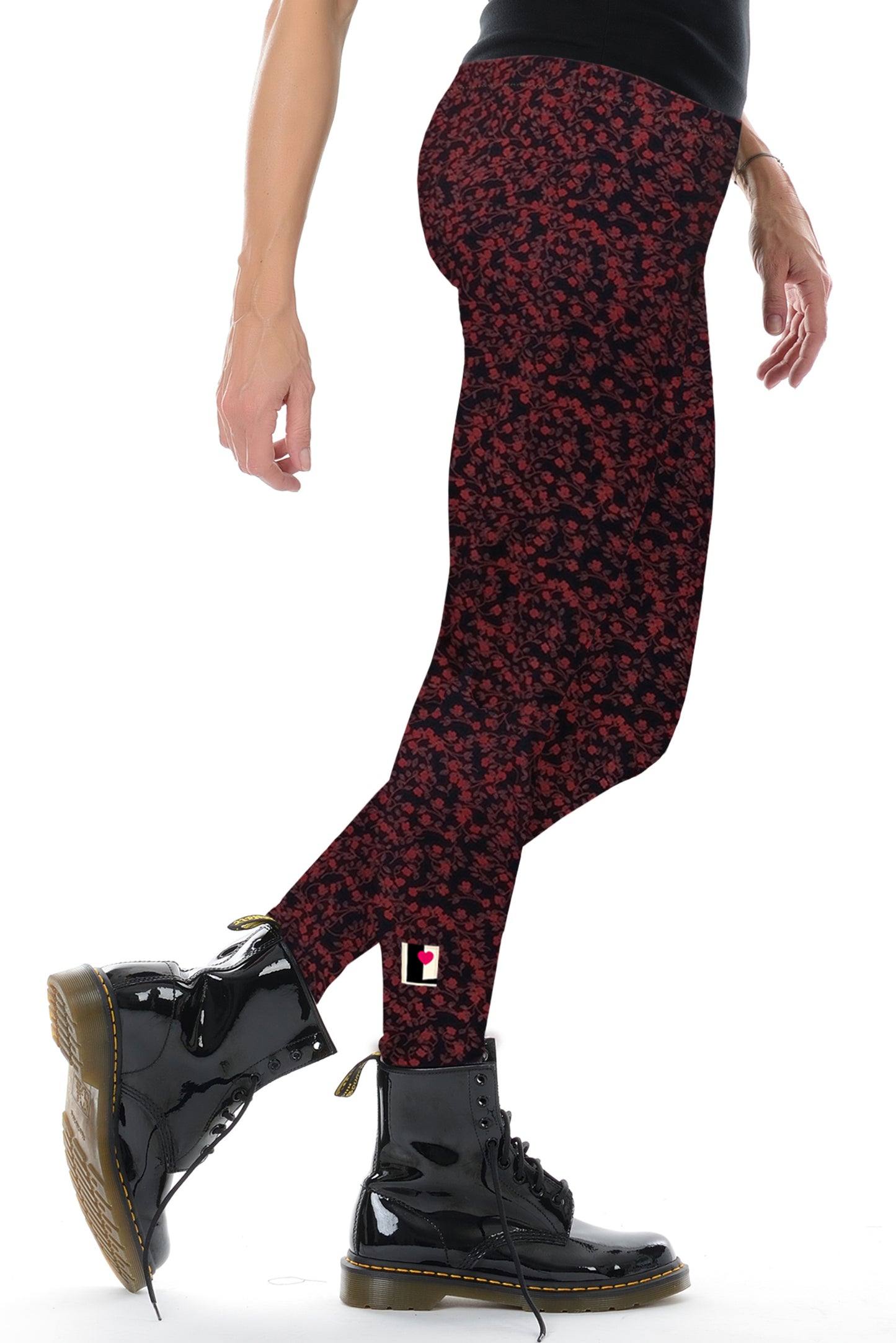 cotton leggings
Your legs will leap for joy when you walk around in these sexy cotton leggings . It is super suitable as sports leggings , as it is very elastic and has a body-hugging cut. But the unusual leggings for women also cut a great figure as great leisure trousers. You'll draw everyone's attention when you enter the gym in tight leggings. And we think that's the way it should be ;-) Discover our other designs as well. From plain to colourful , from subtle patterns to unusual mega prints. We make everything possible, because there are no limits to your imagination!
Women's sports leggings for yoga
Size XXS to 4XL

It's not Tiktok leggings that we make. But our leggings should be for everyone. This is important to us, because every person is built differently and needs their individual size. That's why we've made it our mission to produce leggings for everyone. Our sizes vary between XXS and 4XL. Hopefully we can reach you with the wide range, because we want to make people happy with our fashion.
cotton leggings

A special feature of our motif leggings is the high quality of their fabric. We carefully select the materials so that you can enjoy them for a long time. The material used is a fine cotton jersey that has been tested for the non-use of harmful substances. A small percentage of elastane gives the knitted fabric malleability and also the ability to keep its shape. In addition, the cotton ensures warming effects. Our opaque leggings are a great companion in all seasons. And if it gets too cold, they can be combined with woolen warmers. It doesn't detract from the look in the slightest.